James Baker as a Political Tactician: 2000 Presidential Election
Watch this video clip from the documentary to learn more about James Baker's role in the 2000 presidential election. As you watch, ask yourself:
What role did Baker play in helping George W. Bush win the election?
Do you agree with Jeffrey Toobin's assessment that the "Democrats were playing checkers and James Baker was playing chess" when it came to the 2000 election?
James Baker did not aspire to be a political operative. Growing up, he was largely apolitical. Former first lady Barbara Bush, who knew Baker as a young Houston attorney, later recalled that he preferred hunting over voting. But when he worked on a Senate campaign for his friend George H. W. Bush, it became obvious that Baker had impeccable political instincts.
It was Baker who helped pave the way for George H. W. Bush to become vice president in 1981 (see sidebar). Seven years later, in 1988, Baker headed up Bush's presidential campaign against Massachusetts Governor Michael Dukakis. It was an ugly race, and one that seemed to prove Baker's assertion that "politics is a blood sport." Nevertheless, despite the negativity — or perhaps because of it — the Bush team won comfortably in November. Twelve years later, George H. W. Bush's son, George W., ran for president against Democratic Vice President Al Gore. The Bush/Gore match-up of 2000 was so tight that the race was declared "too close to call" on election night. It all came down to the vote count in Florida; whichever man had won that state would win the election.
Votes were counted and recounted. Days passed, and then weeks. Both candidates sent representatives to Florida. George W. Bush's team sought help from Baker, the man who had guided Bush's father into the White House.
Baker's goal was to move the issue to the Supreme Court. When the Gore team requested a recount of the votes in predominantly Democratic districts, Baker complained that they were acting in a partisan manner. He orchestrated protests and helped create a media spectacle. Finally, the question of the Florida vote count landed in the Supreme Court, where, in a vote of 5 to 4, the justices decided in favor of George W. Bush.
A PLAN FOR VICE PRESIDENT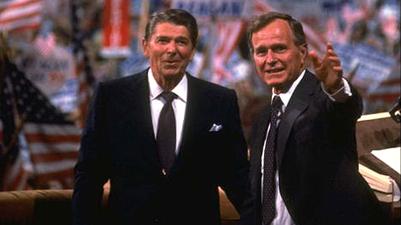 Baker was the campaign manager for George H. W. Bush during his 1980 presidential bid. Bush enjoyed some early success in the primaries, but as the primary season wore on, it became clear that he was unlikely to defeat Ronald Reagan for the party's nomination. Baker began thinking ahead — if Bush could not be the presidential candidate, perhaps he could be Reagan's vice presidential running mate. On the eve of the California primary, Baker made a strategic decision to leak the news that the Bush campaign was out of money. Bush was furious; Baker's leak effectively ended his presidential bid. But in the long run, Bush was also grateful to his friend. Baker had set in motion the possibility that Reagan would pick Bush to be his vice president, which he did later that summer. In the November general election, the Reagan/Bush team was overwhelmingly elected into the White House.